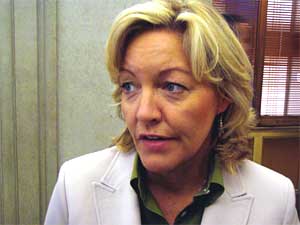 Sue Jeffers, owner of Stub & Herbs bar in Stadium Village and president of Minnesotans Against Smoking Bans, is formally announcing she is a candidate for Governor.


I couldn't believe my ears when I heard Sue Jeffers spout the OTBL party line on public radio today. My God, she's the OTBL dream girl.






On Taxes and Pawlenty
"Minnesota still has a spending problem and our current elected officials refuse to close the checkbook. Constitutions were written to protect citizens from government. A Taxpayer Bill of Rights would set a limit on government growth at the state and the local level. Any increase in government revenues and spending above population growth and the rate of inflation must be approved. A taxpayer bill of rights will seek to slow government growth, not reverse it."

"There is little doubt if parents had an affordable option they would not send their children to public school."

"In Minnesota, per pupil expenditures are about $8,000 in government funded schools. Private schools spend about half."

Suzi hasn't done her research when she spouts off these figures.
Hill Murry Tuition $8,800


"When a government program fails, the most common response is to say it needs more money, our taxpayer dollars. Of course, it is always for the children, the economy, the poor, the disadvantaged or another under-represented sector. The Democrats talk about the children as they make government bigger while the Republicans talk about smaller government while they make it bigger. We need to make government smaller, more efficient and more effective."

Yeah, we've heard that for the last 6 years from Republicans.

"Prosperity results when government protects private property rights, maintains law and order, provides basic services, low taxes and regulation. Government produces nothing and does not always have to do something. Government can only redistribute wealth created by private enterprise or it can destroy it. There is nothing right about taking money from one and giving it to another and calling it compassion. Subsidies, research grants and similar expenditures were never intended to be the role of government."

The current economy sure verifies this lie. What prosperity? and for who?

If this woman is the future of MN, I have to start thinking about a new career, something like
OTBL dating service. Too bad there's only one of her.