One of many articles by Ray Kurzweil


Ray Kurzweil was the principal developer of the first omni-font optical character recognition, the first print-to-speech reading machine for the blind, the first CCD flat-bed scanner, the first text-to-speech synthesizer, the first music synthesizer capable of recreating the grand piano and other orchestral instruments, and the first commercially marketed large-vocabulary speech recognition. Ray has successfully founded and developed nine businesses in
OCR
,
music synthesis
,
speech recognition
,
reading technology
,
virtual reality
,
financial investment
,
cybernetic art
, and other areas of artificial intelligence . All of these technologies continue today as market leaders. Ray's Web site,
KurzweilAI.net
, is a leading resource on artificial intelligence.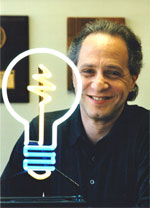 CATO says some jobs could be done by monkeys:
Who need monkeys
Capitalist Stock Brokers Beware: You're outsourced to an algorythm.
Check out Ray's astounding technical innovations:
Ray Kurzweil- Inventor