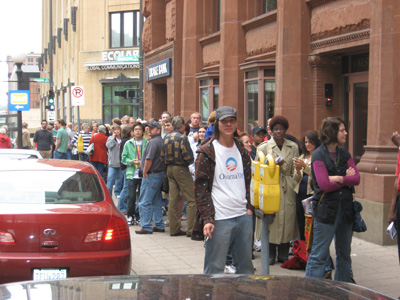 From MPR:
Line for Obama rally exceeds a mile


June 3, 2008
Large crowds began forming early today to get a spot at tonight Barack Obama rally at the Xcel Center. St. Paul police initially reported more than 50,000 people were inline for the event. By 6:30 p.m. the line extended more than 1.5 miles.
St. Paul, Minn. — Many of the thousands who arrived several hours early for Sen. Barack Obama's appearance in downtown St. Paul said the wait was a small price to pay in exchange for watching history unfold.
The Associated Press is reporting that Obama has sealed the Democratic presidential nomination today, taking him one step closer to becoming the nation's first African-American president.